Teams of educators can sign up 10 or more individuals and begin transforming learning and teaching with year-round professional learning and endless networking opportunities.
ISTE group membership is offered in two sizes: group of 10 and group of 25. Group memberships are a bundle of individual memberships and conference registrations. We also offer district-wide memberships. For additional information about our district membership program, please contact us at iste@iste.org.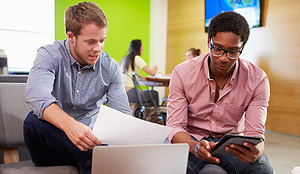 Professional development
Group membership provides professional development to your team in one easy transaction at a discounted price to save you time and money.
Amazing resources
Members gain year-round access to our library of standards-based webinars and our leading-edge member magazine along with discounts on books and online courses.
Edtech experts and coaching
Members connect with edtech experts through exclusive communities that offer learning opportunities on specific topics, such as tech coaching, mobile learning and STEM.
I really believe that ISTE is serving all educators all around the world when it comes to finding a place for digital learning and the equity conversation in the work we do as educators.
— Ryan Imbriale, innovative learning executive director, Baltimore County Public Schools, Towson, Maryland
Member benefits and pricing
Group members have access to the same benefits and resources as basic ISTE members. In addition to this, each group membership comes with a number of ISTE Conference & Expo registrations.
| MEMBERSHIPS INCLUDE | SMALL | MEDIUM |
| --- | --- | --- |
| BASIC INDIVIDUAL MEMBERSHIP | 10 | 25 |
| ISTE CONFERENCE & EXPO REGISTRATION | 2 | 3 |
| PRICING | $1,600 | $3,500 |
Make the case: Get your boss on board! (PDF)

Group membership dues are transferable, but non-refundable. Member benefits are subject to change.
Get Started
For more information, or to join or renew your group membership, please complete the form below.
Working together,
we're transforming learning and teaching.

Phone and Live Chat
7 a.m. – 5 p.m. (Pacific) Monday–Friday
800.336.5191 (U.S. & Canada) 503.342.2848 (International)
iste@iste.org

Membership dues are transferable, but non-refundable. Member benefits are subject to change.