Membership for state/regional member associations
ISTE shares a common goal with a host of education membership associations: transforming education for students across the globe. Let's work together to make it happen. Connect your organization to our worldwide network of like-minded leaders with an ISTE affiliate membership.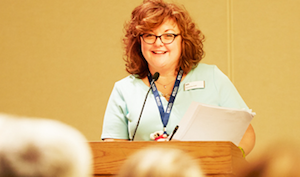 Professional opportunities
Becoming an ISTE affiliate opens the door to invaluable networking, partnership and collaboration opportunities.
Increase impact
Working together, ISTE and our affiliates strive for organizational excellence to increase the impact on our communities, provide leadership and professional learning for our members, and advocate on behalf of educators.

Apply for ISTE affiliate membership.

Explore affiliate directory
Being an ISTE affiliate gives AzTEA instant credibility with our members and throughout the ISTE community. We've focused our PD efforts around the 2016 ISTE Student Standards and appreciate the support and collaboration ISTE has provided.
— Cathy Poplin, executive director, Arizona Technology in Education Association (AzTEA)
Affiliate member benefits and pricing
Premier affiliates
Premier affiliates are those who wish to actively collaborate with ISTE and other affiliates on mission-driven initiatives, professional learning, marketing or organizational growth endeavors. Premier affiliates receive a robust menu of benefits and are offered collaborative opportunities not extended to associate affiliates.
Associate affiliates
Associate affiliates maintain a connection with ISTE to share information and resources with their members, but don't actively participate in collaborative opportunities. Associate affiliates can participate in the affiliate community and receive a limited menu of program benefits.

Learn more about affiliate membership program, benefits, and pricing. (PDF)
Working together,
we're transforming learning and teaching.
Or contact us today! Phone and Live Chat
8 a.m. – 5 p.m. (Pacific) Monday–Friday
800.336.5191 (U.S. & Canada) 503.342.2848 (International)
iste@iste.org