ISTE Certification is a competency-based, vendor-neutral teacher certification based on the ISTE Standards for Educators. It recognizes educators who use edtech for learning in meaningful and transformative ways.
Focused on pedagogy. Based on the ISTE Standards.
ISTE is focused on pedagogy, not tools. It's not about edtech per se, it's about what you do with the tech to transform learning and improve student outcomes.
Through the ISTE Certification process, teachers will participate in professional learning based on the ISTE Standards and transformative pedagogy. After completing the training, participants have six months to apply their learning and compile artifacts and reflections into a competency-based portfolio to earn ISTE Certification. View the sample syllabus or download the program brochure.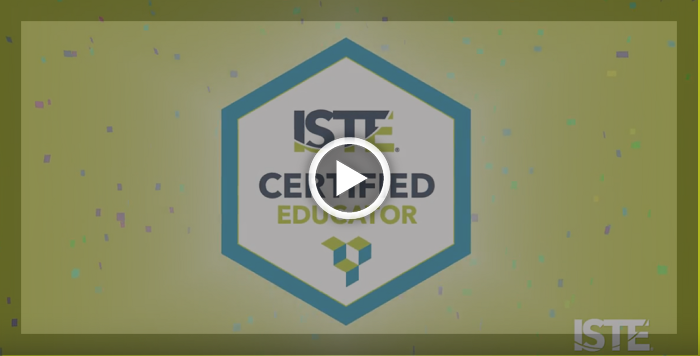 Questions?
Interested in bringing the ISTE Certification training to your school? Contact istecertification@iste.org.


For upcoming workshops visit the Community Calendar or the providers below.
BECOME ISTE CERTIFIED
ISTE has selected these organizations to deliver a high-quality certification training program for educators. ISTE Certification workshop dates will be available on each organization's website. The ISTE Certified Providers can work with school districts and other educational organizations to deliver Certification training anywhere in the United States. Please contact ISTE or a Provider for more information
Eastern USA
March 25-26 Saratoga Springs, NY
August 20-21 Harrison, NY
March 30-31 Bethlehem, PA
June 17-18 Lancaster, PA
August 13-14 Greater Philadelphia, PA
September 17-18 New Oxford, PA
---
West & Midwest USA
March 18-19 St Louis, MO
April 1-2 Columbia, MO
June 3-4 St Louis, MO
June 6-7 Orlando, FL
February 28-March 1 Schaumburg, IL
June 3-4 La Vista, NE
March 18-19 La Conner, WA
March 13-14 Hamilton, OH
May 29-30 Hamilton, OH
March 7-8 Turtle Lake, WI
March 20-21 Green Bay, WI
April 8-9 West Salem, WI
June 18-19 Whitewater, WI
---
Southern USA
February 26-27 Austin, TX
March 14-15 Austin, TX
April 4-5 Austin, TX
May 2-3 Austin, TX
Various locations

March 14-15 Fairhaven, MA
June 20-21 Newark, NJ
July 9-10 Montvale, NJ
July 9-10 Port Allen, LA

March 6-7 Hong Kong
April 13-14 Rome
May 4-5 Beijing
September 21-22 Guangzhou
Nov. 30 - Dec. 1 Amsterdam
Steps to becoming an ISTE Certified Educator:
Step 1 - Complete a two-day face-to-face training conducted by an ISTE Certification Authorized Providers.
Step 2 - Complete a five to eight week online course (approximately 30 hours). Learn more in this sample syllabus or download the program brochure.
Step 3 - Assemble your e-portfolio of artifacts and submit them to the ISTE certification review panel. Aspiring ISTE Certified Educators will have six months to apply their learning and submit their e-portfolios.
Are you ready to be an ISTE Certified Educator?
Do you have the time?
To earn ISTE Certification, you'll need to participate in a two-day face-to-face training and an online component that can last 5-8 weeks depending on the provider. Plan to dedicate 4-6 hours per week during the online portion. After completion, candidates will have six months to present their evidence to ISTE Certification evaluators.

Do you have the tech skills?
Experience working in an LMS is necessary to be successful. It also helps if you've had a few online courses under your belt. The online component involves 30 hours of instruction, and it moves fast.

Are you familiar with the ISTE Standards?
A basic understanding of the ISTE Standards for Students and the ISTE Standards for Educators is a prerequisite for this course.

Are you committed?
ISTE Certification is designed to bring transformative change to your classroom or school. The program is not your average PD course. It's intensive, ongoing training and requires documentation.

Not ready for certification? Check out some of ISTE's other resources and PD offerings to get start you toward certification.
ISTE U | Digital Learning Pathways | ISTE Standards | ISTE books
Stay informed about becoming an ISTE Certified Educator!
We will pass your information on to your closest Certification provider.